You may think this is an unusual mix of technologies but we're encountering more and more organizations who use Sitecore, Salesforce, and Micro Focus Content Manager and need them to communicate with each other.
Each technology has attributes that ensure it will be popular for many years to come. Sitecore leads the relentless drive for web content personalization and is supported by an architecture that is highly customizable and scalable. Sitecore's recent cash injection will increase its market share in the enterprise content management space. The large-scale adoption of Salesforce as the preferred CRM seems to have no limits. Salesforce, an early adopter of the cloud, is amazingly adaptable, easy to manage, and supported by countless apps available from the AppExchange. Finally, Micro Focus Content Manager (aka CM or TRIM) is an EDRMS with a long history of meeting the document handling requirements of numerous regulatory bodies. Over time, CM has accrued innumerable "cradle-to-grave" document handling features including modern capabilities that include the IDOL AI engine. By storing documents in such huge volumes, CM has deemed itself almost irreplaceable - migrating these documents to an alternate system would require a significant effort.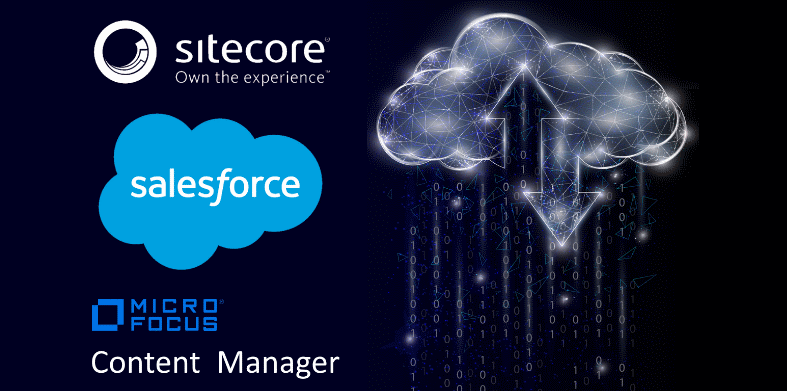 The transfer of corporate documents and records to a controlled environment is a key issue for organizations. Today, we expect the passage of documents between systems to be automated, secure, flexible, and in real-time. This can be achieved using Sitecore, Salesforce, and Micro Focus Content Manager using FuseIT's integration technologies, S4S and T4S.
Large public and private organizations that require strong data governance and document life cycle management often use CM to achieve this. The challenge is getting the documents in and out simply and efficiently. Integrating CM with Sitecore and Salesforce resolves this by automating the exchange of documents. Users can process documents from their system of choice without requiring training in an adjacent system. Even better, because documents in each system are linked to their owners in another, the quality of information is improved.
Sitecore to Salesforce to Content Manager
Consider the common process of receiving documents from an organization's website. A visitor completes a Sitecore web form that requires documents to be uploaded e.g.
Complaint form with photographic evidence
Event registration form with qualification documents
Feedback form with screenshot images
File upload form with signed affidavits and contractual documents
Job application form with a pdf resume
Membership registration form with references
Order form with additional documentation
When the visitor submits the form, the field values are pushed to a Salesforce object, typically a lead, contact, or case, and the document is attached to the record. At the same time, the visitor's web browsing behavior can be pushed to Salesforce to provide agents with an insight into the visitor's state of mind.
In Salesforce, an agent views the new record and determines if the attachment(s) are required in CM. If so, they can be synced immediately to a pre-determined container. A link is kept in Salesforce so the document can be accessed and viewed in the future. Alternatively, Salesforce attachments can be automatically moved to CM whenever a new record is created by a website visitor or by other means.
Email to Salesforce to Content Manager
Some organizations receive important documents as email attachments. The emails and attachments can be pushed to Salesforce objects like contacts and cases by setting up an email rule to CC emails to the Email to Salesforce service address. Any email attachments are added to the Salesforce record and therefore, available to be either automatically inserted into CM, or manually pushed by a Salesforce agent.
Sitecore to Content Manager
Some organizations prefer to push website documents directly to CM via forms or upload controls. The SooT integration accommodates thIs, and, in the other direction, selected CM documents or containers can be made available to Sitecore administrators who can create download links on the website.
Conclusion
Integrating Sitecore, Salesforce, and Micro Focus Content Manager creates many efficiencies by enabling automation, increasing document visibility (without additional licensing), reducing training requirements, strengthening integrity by linking documents to owners, and allowing users to access the information they need from within their favored system.
If you want to learn more about how to add value to your business in this way please contact us for more information.