Salesforce will begin turning on MFA for User Interface Logins on February 1, 2022.
S4S connects to Salesforce via a Salesforce API user (rather than a User Interface Login). The profile of this API user (or permission set if the profile is overridden) includes the "Multi-Factor Authentication for API Logins" checkbox. This should not be checked.

Also, in General User Permissions, the "Session Security Level Required at Login" under Session Settings must be set to "--None--".

The impact of incorrect settings will be a connection error similar to this:
Exception: System.Web.Services.Protocols.SoapException
Message: INVALID_SESSION_ID: This session is not valid for use with the API
Source: System.Web.Services
FuseIT recommends the following:
The profile of the S4S API user is a dedicated profile with the settings described above
You should avoid using a System Administrator profile or a copy of this profile
We suggest the API user profile should have the "Api Only User" setting checked (see image below)
MFA settings are temporarily excluded from Sandboxes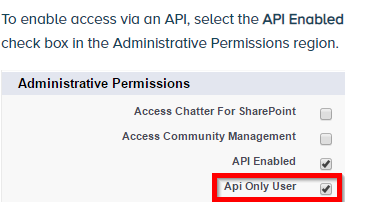 If you experience connection issues after 1 February please contact us.