A customer journey is a time-ordered list of interactions a customer has during the sales process. Understanding the journey helps create a seamless customer experience by identifying and fixing pain points. This blog looks at how the features of Sitecore, Salesforce, and Salesforce Marketing Cloud can be used to accumulate information and create an end-to-end customer journey.
Customer journeys typically have five stages:
Awareness: Becoming aware of a need and which company has a solution
Evaluation: Determining if a product or service is suitable
Acquisition: Purchasing the item
Retention: Ensuring existing customers are retained and buy again
Advocation: Ensuring customers share their positive experience with others
As a customer progresses through the stages, they interact with the three systems many times - progressively accumulating knowledge that is invaluable to the sales and marketing teams.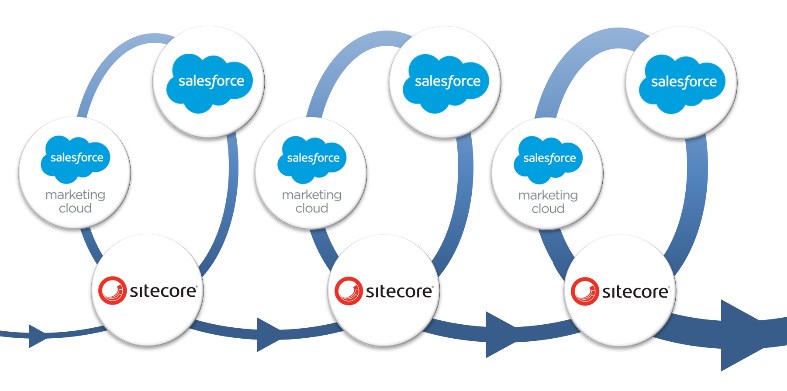 Sitecore
Companies using Sitecore CMS need to consider all five stages when creating content and functionality. Because website visitors can be at any stage in the customer journey, the first challenge is to identify the stage. Only then is it possible to create a resonating contextual experience!
Sitecore can determine why a first-time visitor has visited the site by tracking their actions e.g. Menu clicks, page scrolls, downloads, etc. By capturing these actions, Sitecore can extrapolate the intent and assign page content that better meets the needs of the visitor. Putting it another way, by monitoring visitor behavior in real-time, Sitecore can be configured to predict visitor intent and render the corresponding contextualized content. This makes it easy for visitors to quickly find what they want.
Sitecore also profiles visitors and adds them to like-minded groups. Each group can be provided with resonating content which improves lead conversions. The data that Sitecore collects (analytics) has significant value to the sales and marketing teams.
Awareness
Using Sitecore personalization is a powerful way to raise awareness and market your brand to anonymous visitors. Visitors arriving from different geographical locations can also receive a personalized experience. For example, if they are near a branch store or already in the store of a competitor, this is an opportunity to persuade them to visit your store.
To increase brand awareness to visitors arriving from a known source, like an email click-through or social media post, it is important that the landing page meets the expectations created by the referring link.
Evaluation
When a website visitor completes a lead form, signs up for a newsletter, or downloads a whitepaper, this provides the source data that the Sitecore rules engine can use to make personalization choices. Of course, it also provides the sales team with contact information and the reason for the visit. Using this, they can make contextual offers via email or other communication channels.
Sitecore can evaluate and score each visitor based on their website activities. While this can be used for personalization, it is equally useful as a lead score that can be passed to the CRM when a webform is submitted.
The evaluation process often brings visitors into contact with a sales rep so making the Sitecore browsing information available in Salesforce greatly increases the chance of sales success.
Acquisition
This is in the Salesforce domain however Sitecore integration does allow Salesforce field values to be pushed to Sitecore xDB facets. The Sitecore rules engine can then personalize the returning visitor's web experience based on their sales status in Salesforce. The result is a website that can deliver targeted content and messaging based on where the visitor is in the sales process.
Retention
Sitecore can recognize when existing customers return to the site looking for more info. It is then possible to provide guided access to these resources thereby reducing customer service inquiries while, at the same time, promoting upsell and cross-sell opportunities e.g. related accessories.
If you allow customers to access portal pages on your website, it is a good idea to let them sign in using a social network. This provides Sitecore (and the CRM) with even more personalization source data e.g. psychographic and other insights that can be used to provide a more relevant experience.
Advocation
Advocacy marketing encourages existing customers to promote products to others e.g. by:
Following and sharing content
Setting Facebook statuses
Creating Instagram posts
Tweets
Create YouTube review videos
Sitecore content can be used to motive customers to take one of these actions:
Offer incentives and specials e.g. 20% off their next product if they refer a friend
Promote catchy brand narratives that customers use to describe the business
Create a loyalty scheme that draws customers back to take advantage of incentives
Promote social media #hashtags to boost a brand on social media
Salesforce
Salesforce plays a role in the customer journey during the evaluation, acquisition, retention, and advocation stages.
Evaluation
Website conversions (when a visitor submits contact information) should be automatically sent to Salesforce for processing. An integrated system would also push the Sitecore analytics data to Salesforce at the same time. This behavioral data is vital intelligence useful for lead prioritization, perfect for creating targets email campaigns, and vital to help sales reps prepare for sales calls.
Acquisition
The sales team track the progress of prospect through the sales funnel using:
Lead conversion (to a contact)
Contact status field values
Opportunity object and setting opportunity status field values
Inclusion in campaigns
Notes and tasks
Retention
The CRM provides many ways to frequently communicate with customers to maintain brand awareness and loyalty. Pending the business requirements, contacts (customers) can be:
Emailed directly from a Salesforce campaign (consider size limitations) or
Included in Salesforce campaigns which are then passed to Marketing Cloud or
Individually shared with Salesforce Marketing Cloud (via Marketing Cloud Connect)
Advocation
Encouraging customers to share their positive experiences is achieved using communication channels e.g. social media and mass emailing. Salesforce reports are ideal for filtering customers into campaign lists. The lists can be passed to Marketing Cloud for dispatch. For example, problematic purchases can be identified, placed into a campaign, and those customers sent an apology email with a discount offer for their next purchase.
Salesforce Marketing Cloud
Maintaining customer loyalty requires regular and effective communication. Marketing Cloud Connect integration allows lead and contact field values in Salesforce to be shared with Salesforce Marketing Cloud - noting that Salesforce already contains the learnings from Sitecore. Salesforce Marketing Cloud plays a role in the awareness, retention, and advocation stages of the customer journey.
Awareness
Fully integrated systems pass Sitecore form data and visitor analytics to Salesforce and then to Salesforce Marketing Cloud. This provides a very wide range of email personalization choices that promote consumer awareness. Email is used to drive recipients to the website where their behavior is tracked and reported to Salesforce (commonly called the "round trip").
Retention
Email click-through links can be directed to a Sitecore email preference landing page. This encourages email recipients to revisit the website to opt-in (or out) of email campaigns. After selecting their preferences, the changes are pushed to Salesforce and Marketing Cloud along with any browsing behavior they created.
Sending timely and focussed emails is a powerful customer retention strategy. Directing customers back to the website ensures frequent exposure to a brand and products. The key advantage of using Salesforce Marketing Cloud is that Journey Builder can make light work of the repetitive tasks by automating communications.
Advocation
One of the best ways to ensure customers share their positive experiences is by emailing promo or discount codes and encouraging them to pass the codes to their friends or contacts. Other ways include paying referral commissions, offering extended support, and discounts on future purchases.
Conclusion
Sitecore, Salesforce, and Salesforce Marketing Cloud each provide powerful ways to enhance the customer journey with each system collecting its own customer data. Integration shares the data generated by each system which culminates in the "round trip" that progressively accumulates information at each customer interaction.
FuseIT specializes in Sitecore to Salesforce to Salesforce Marketing Cloud integration. Our S4S integration enables both implicit and explicit personalization. Please contact us for more information or to see a demo of this in action.